5 Easy Ways to Make New Friends in Millburn-Short Hills NJ
Posted by Leslie Crowe on Monday, April 12, 2021 at 9:43 AM
By Leslie Crowe / April 12, 2021
Comment
Relocating to a new area can be a little scary and many folks are apprehensive when it comes to getting outside their comfort zone, finding new groups and clubs, or acclimating to a new area. If you are new to the Millburn–Short Hills New Jersey area, we want to welcome you, and help you become more part of our community. There are several great programs and clubs out there specifically designed for newcomers but, as with any new move, sometimes it just comes down to being brave and putting yourself out there.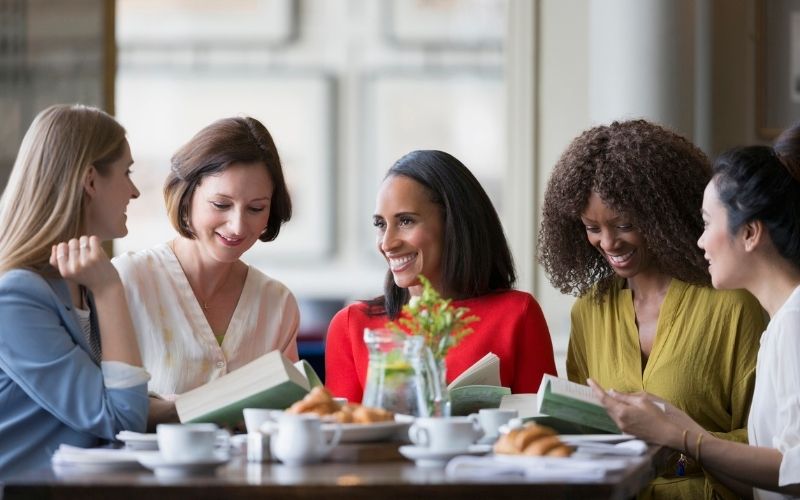 If you have recently relocated to Millburn–Short Hills, here are some great ways to meet new friends, get involved in your community, and get a sense of belonging as quickly as possible.
This group is one of the top places for those that have recently relocated to the Millburn-Short Hills area. They've had nearly 50 years of connecting, informing, and helping build lasting friendships with new and current neighbors. This nonprofit social club was formed in 1973 and is open to all residents of Short Hills and Millburn. Even if you have lived here forever and you're just starting to get out of your comfort zone into the social world, this is a great place to start.
The club is run by member volunteers and has activities for the whole family. The idea is to make those that have newly arrived and those looking for new opportunities in the area as comfortable and welcome as possible helping them find friendships that last a lifetime. There's a variety of group activities for both kids and adults such as meet and greet coffee times, playgroups, social events, weekly poker nights, community outreach options, a variety of conversation groups for different languages, wine tastings, ladies night out, guest speakers with parades and fairs, book clubs, walking groups, and much more.
For the kids, members can enjoy splash parties and fall family days, family bingo, hikes, art classes, reading groups, and opportunities to volunteer throughout the community. This truly is one of the best ways to get involved quickly in the Millburn and Short Hills area.
The Parent Teacher Organization is an ideal way to be more involved with your child's school and the school system and as well as meet some local peers. The Millburn School PTOs are local organizations of parents and legal guardians of students and incoming students, teachers, staff, and administrators of the school system located in Millburn-Short Hills. The Education Foundation is a nonprofit designed to promote the welfare of students in the home, community, and school and to provide certain supports where parents and guardians of current and incoming students can work cooperatively with teachers and administrators to provide excellent resources for the students. This is also a great way to increase parent volunteerism and involvement as well as find some lifelong friends. If your student is an incoming student or current student in the school system, this would be a great way to get involved with local peers and like-minded parents.
Happy Millburn is a Facebook group of Millburn Township residents dedicated to enhancing and reinforcing ​a vibrant community. They do this by encouraging solution-oriented discourse that promotes positive outcomes for all stakeholders. They foster inclusivity and welcome input from all Millburn and Short Hills neighborhoods. They believe that residents are the lifeblood of the community and that, along with local businesses, government, schools, parks, and recreation leagues​, they create and project the vitality of our community.
Book Clubs
Did you know that there are more than a dozen book clubs in the Milburn and Short Hills area alone? From Coffee with the Newcomers/encore club to Friends 2 Fireside at the Millburn Library, to the Monday Evening Book Club, there's probably a group that's reading exactly what you like to read right at this very moment. Make friends, discuss different books and socialize at both in-person and digital book clubs. The Monday Evening Book Club typically meets on Monday nights from 7 to 8 PM. You can check out more at the Roxbury library here.
Fitness Studios
Millburn and Short Hills offers some great classes and options for fitness enthusiasts.
Volunteer Options
Down the Block is a non-profit corporation created and run by a group of Millburn-Short Hills residents who were concerned that people right here in our town are struggling financially. Their mission is to provide short-term assistance to those of our Township neighbors facing unexpected financial setbacks. This is a wonderful way to get involved in the community and make a real impact in another's life.
MEND for Millburn is an interfaith network of over 20 member food pantries and food banks throughout Essex County. Houses of worship, foundations, community organizations, and individuals donate food that MEND then collects and distributes among its member pantries.
Bridges Outreach is in Summit but very popular for all residents in the area. This organization provides school supplies, toiletry kits, food, closing, and meals to tens of thousands of local residents with over 2,000 volunteers each year.
Churches/Synagogues
There are dozens of churches, places of worship, and synagogues around Millburn and Short Hills, many of which provide volunteer opportunities on a weekly, monthly or annual basis. They are always accepting volunteers to further their outreach. Here is a list of some wonderful faith-based organizations in Millburn and Short Hills.
The Patch is a local online news source for events, activities, learning about the area, and a great way to find events you might be interested in. There's always something new going on around the area, open houses, things to do and activities, local details such as keeping up with regulations and rules, contests, and clubs.
There are a lot of great ways to find good people, like-minded professionals, or just a lifelong friend in the Millburn and Short Hills area. Start with some of our favorites above and stay tuned to our blog if you are relocating to one of the other areas throughout the New Jersey Essex, Union, and Morris counties. And if you are new to Milburn, we would love to welcome you!