Tips on Getting More Involved in the Maplewood Community of New Jersey
Posted by Leslie Crowe on Friday, August 13, 2021 at 2:13 PM
By Leslie Crowe / August 13, 2021
Comment
Are you new to the Maplewood New Jersey area? You may be wondering how to get involved with the community, meet new people, and find lifelong friends. There are a variety of community resources out there and it all depends on what you like to do, how you like to meet people, and resources for like-minded people. Here are just some of the ways you can quickly get involved in the Maplewood New Jersey community.
This is a great place to get involved, take a class, share your masterpiece, or just find information on many of the different art organizations around Maplewood. It offers a community school for people of all ages, garden classes, the Maplewood Artist Collective, the historic preservation commission, Memorial Library, the Village Alliance, and the Springfield Avenue partnership. On the website, you'll find art studios, galleries, and classes along with acting and improv classes, music, performing arts, and multiple clubs around Maplewood New Jersey. There's even the Maplewood Senior Center and recreation department for a variety of fitness and recreation opportunities.
City volunteer opportunities
The Township of Maplewood offers a variety of volunteer opportunities with the Community Volunteer Resource Program. It's a great way to assist locals in seeking qualified and interested citizens to serve in a variety of volunteer capacities. From police and authority communities to youth activities directors, there's usually a volunteer opportunity going on at all times. Check out volunteer opportunities here to submit a volunteer form indicating interest.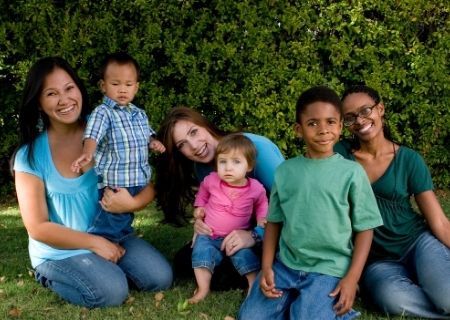 Maplewood is so close to nearby communities and towns that there are a variety of mom's groups all over the place. From preschool get-togethers, play dates, mom's night out, moms clubs, support groups, Cool Moms of Color, Girl Power for moms and daughters, and about 20 other groups, there is a mom's group for just about any type of mom out there. Check out the website for more information on all the different kinds of groups, clubs, and meet-ups just for moms. Check out the Maplewood Mom's Private Facebook Group
For more than simple friendship, Maplewood has a variety of support groups for all types of needs. Whether it's Family Connection for mental health and counseling and services for families, Al-Anon or AA, grief support groups, financial or medical groups, Maplewood has a resource for just about everyone.
This inclusive community of parents and caregivers offers support and connection from South Orange and Maplewood. They embrace all types of families and value diversity. From working families or stay-at-home parents, it's a great place to get together with like-minded individuals. Whether it's playdates, adult-only events, social services, book clubs, family events, or just summer barbecues, SOMA is a great place to meet other families.
Affectionately known as "The Little Club", Maplewood Club is one of the area's best-kept secrets hidden away at the end of Tennis Lane. Minutes from Maplewood Village, this private tennis club offers social events and lifelong friendships for over 100 years. It embraces diversity and inclusion to foster an inviting culture all around the sport of tennis.
This local business directory and news sources great for finding new events, festivals, volunteer opportunities, local businesses, and things to do. It offers a social calendar of different things going on throughout Maplewood such as the Maplewood Garden Club, different speakers, theater events, landscaping tips, and just an all-around great way to get to know Maplewood businesses.
Maplewood New Jersey is a wonderful place to call home but if you're looking to get involved quickly, check out one of these amazing clubs, online resources, activities, and groups to find people with the same interests as you. Welcome to Maplewood! We hope you love it here.