Home Staging Webinar - by Maggee Miggins, Miggins Real Estate Group
Posted by Leslie Crowe on Tuesday, March 30, 2021 at 10:13 AM
By Leslie Crowe / March 30, 2021
Comment
Maggee Miggins welcomes Tom Partello and Bob Dusold from Staged Right Homes for an informative webinar about prepping your home for sale in today's market.
So much has changed in the 25 years that Maggee has been selling homes and things change constantly in the staging world, however, staging is a crucial part of the home selling process. Just a couple of decades ago, no one bothered to paint, move furniture, or layout any specific design or trend when selling a property. It was simply as-is. But in today's seller's market, it's important for homeowners to put their best foot forward in order to get top dollar for their home.
In today's super-competitive market, sellers need to have a phenomenal layout when staging and marketing their home. Listen in to Maggee's interview with Bob and Tom, how to approach staging, how important it is, tips and details on staging your particular home, a question-and-answer session from the live interview, and what to expect in today's New Jersey real estate market.
Here are some highlights from the video:
Why Staging Matters
The goal of your professional real estate team is the same for all listings, to help you achieve the highest sales price in the shortest time so you can move on to your next home.
Staged homes usually sell faster with an average of 23 days on the market (even shorter in this current market).
Most prospective buyers in this market first see a home online, so the photography and the presentation of your home becomes paramount.
Buyer Expectations
Buyers have become used to seeing professionally presented properties and will bypass even looking at a house in person if the photographs are not pleasing. Sellers have about 5 seconds to make an impression online.
Buyers want to see the lifestyle, the idealized version of how they think they want to live in the house. Staging offers that presentation.
Even in a good market, staging will benefit the actual sale price.
85% of staged homes sold for 5%-23% over the listing price.
With an average investment of 1% of the listing price, most sellers saw an ROI of 5%-15%.
With an average investment of 1.5% of the listing price, the ROI can increase 15%-25%
Homeowner's To-Do List
Make essential repairs
Paint, paint, paint
Evaluate and consider possible updates
Declutter
Hire professionals
Prepare yourself for the transition of your home becoming a product to market.
Read more: Paint and Declutter Before Listing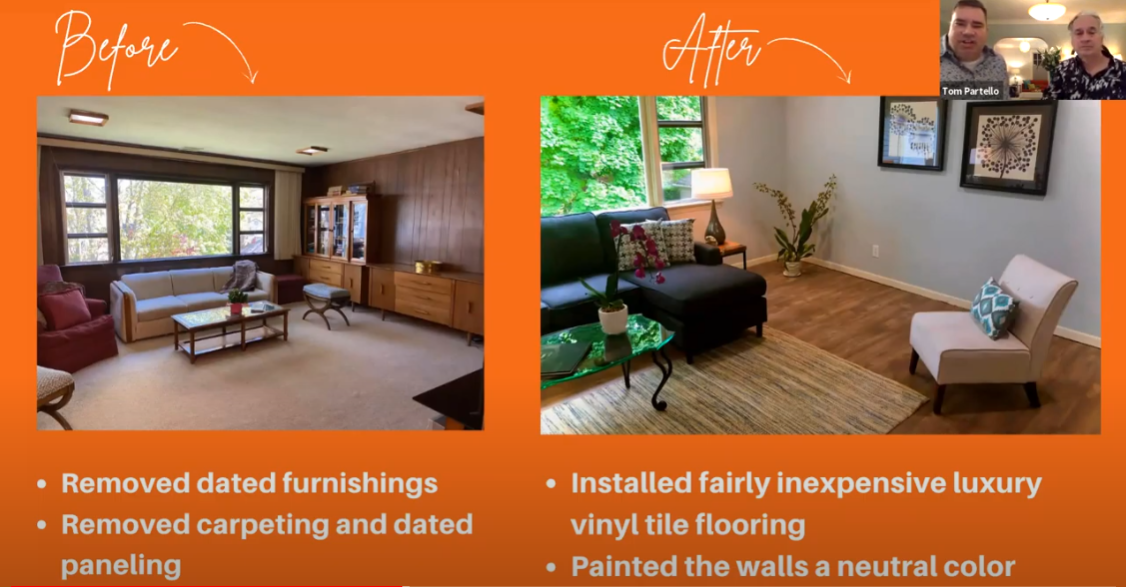 Too much clutter against the wall seems dated. Repainting and reorganizing existing furniture can really help stage the room.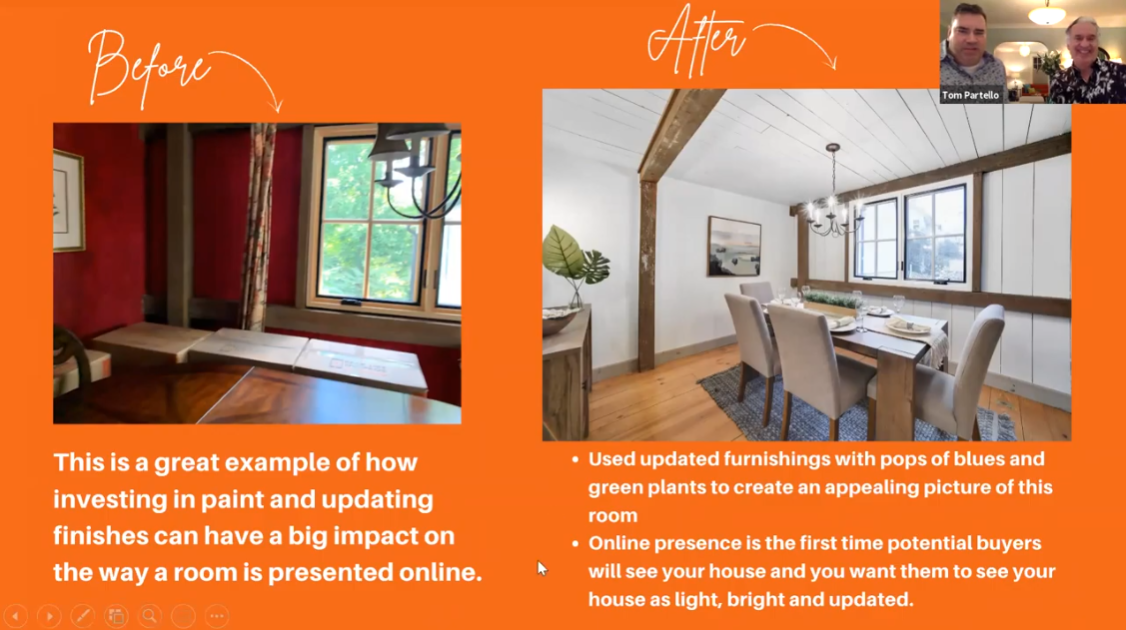 Open the room up with brighter colors and let the house speak for itself without hiding the walls in a color that's just too dark. The space will look bigger with lighter colors. Too much clutter can make a room seem smaller and restrict flow through the room.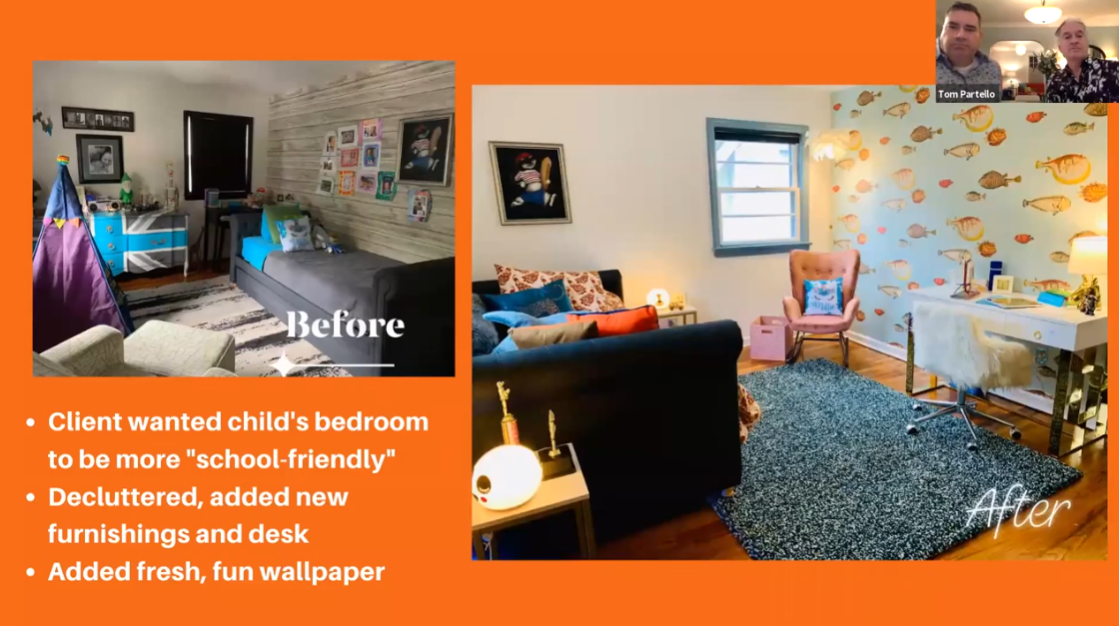 Children's rooms need to be more "school-friendly" and offer stations to work and play in. Fun, clean, and decluttered is a great way to approach a child's room.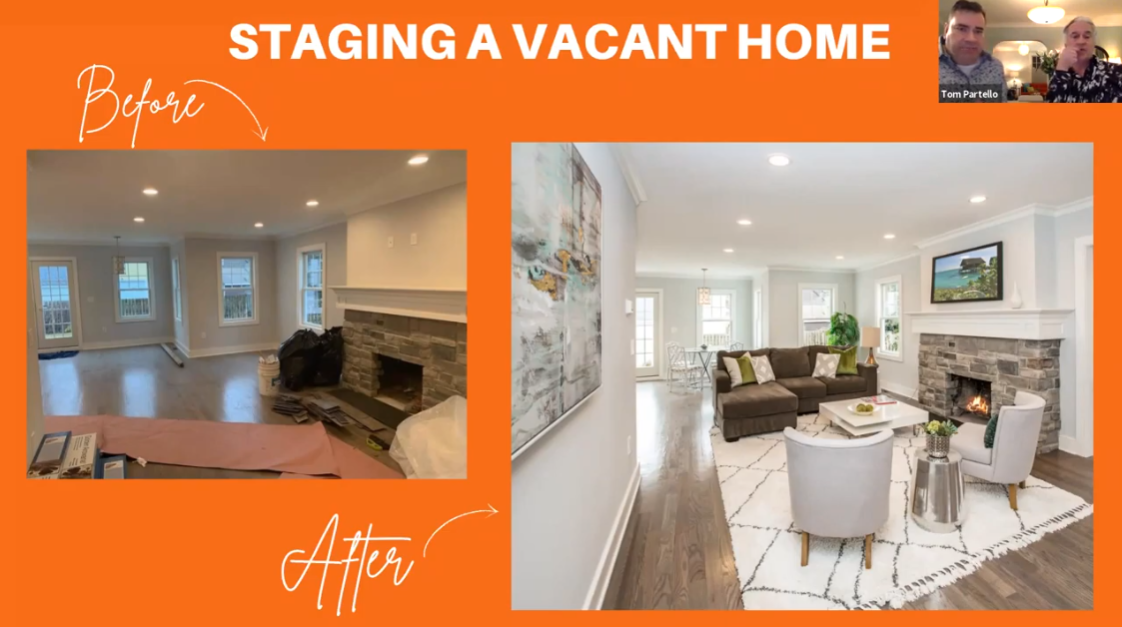 Staging vacant rooms can be tricky because they always look smaller and buyers need to see furniture in the room so they know where furnishings go. Paint the picture of how the room should be laid out and how to function in a space.
Color Strategies
Designers have been declaring the decline of gray for years but it still has staying power. Shades have changed and more variety has moved into the market.
2021 will see the return o vibrant colors to play off the neutral base pallets of whites, grays and greiges.
People will be looking for positivity and energy in home furnishing colors as a counterbalance to the turmoil of 2020. The goal from a selling perspective is to pick colors that will appeal to the widest audience and minimize any negative reactions.
How to Handle Staging Furniture in Today's Age
A lot of staging companies rent furnishings but Staged Right Homes has their own furnishings and each piece goes through a sterilization and cleaning process before going into anyone's home.
When in Doubt... Update.
Lighting fixtures are usually the easiest way to update a room. Outdated fixtures, finishes, and hardware should probably be updated when listing a home.
Wood paneling, stucco walls, and outdated built-ins can be painted or replaced but should be evaluated on a case-by-case basis.
How to live in a staged home
This is the challenge. The goal is to sell a home in the first week but at least for photographs and for the first couple of weeks. Buyers want to see what they saw in the photographs and the staging can affect appraisals and inspections so the more you can leave the staging in place the better.
What about pets?
Odor is the biggest thing. While there are a lot of pet lovers out there, not everyone is. Try to remove all evidence of pets when showing a home including toys, litter boxes and food. Try to keep pets off the furniture or throw a towel or blanket on the furniture when on the market to protect the staging.
For professional staging from Staged Right Homes, contact Ton Partello and Robert Dusold - 917-213-9103 [email protected]
Contact us below for more information on listing your home this spring or for specific tips on staging your New Jersey home.