How to Prepare Your Home for Sale in 2021
Posted by Leslie Crowe on Tuesday, December 29, 2020 at 1:48 PM
By Leslie Crowe / December 29, 2020
Comment
If you're planning to put your home on the market this spring, it's time to "get your house in order."
Exterior and Interior

One way to begin preparing for this major event is to take a look at the exterior and interior of your home from the perspective of a potential buyer. Starting from the outside, it's good to ask, How's the "curb appeal?" For instance, should the exterior be pressure washed or repainted?
Are there cracks in the driveway or sidewalk that need to be fixed? Does the roof need to be repaired or replaced? Are the gutters in good repair? Is it time to update the landscaping? Replacing front and garage doors can be a way to maximize the effectiveness of any curb-appeal improvements.
Once you're inside, check to see if there are any cracks or holes in the walls that need to be repaired. Has the carpeting or flooring seen better days? While the interior paint may fit your personal taste and complement your décor, repainting the walls in neutral colors like beige, cream, eggshell or other light pastels adds an airiness to rooms and makes the space feel larger.
Kitchens and Bathrooms Add Value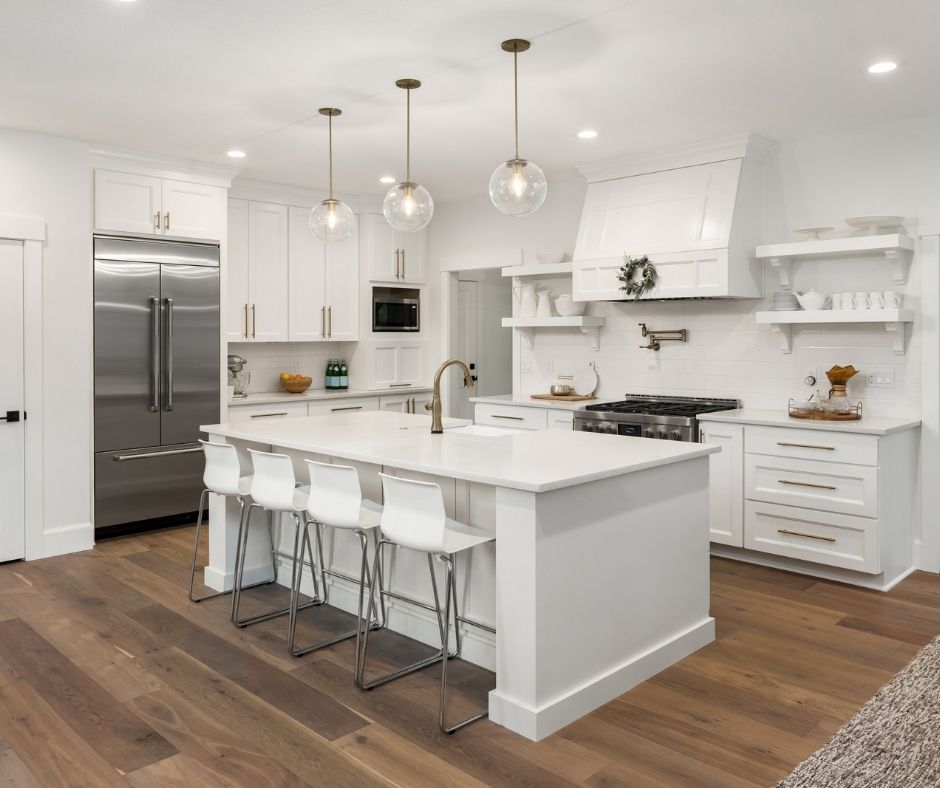 Keep in mind that updating or renovating bathrooms and kitchens can add value to your home. Even just replacing door pulls and modernizing lighting in those much-used rooms can add to the interior appeal.
If you decide to embark on improvements now, you may save money on contractor's fees since they may not be as busy during the winter months. While your own "walk through" may give you a good idea of what needs to be done now to prepare for a spring sale, it's a good idea to also get advice from a few real estate professionals.
Should you have a pre-inspection?
When you're close to actually putting your home on the market, consider hiring a home inspector to see if any additional repairs are needed and an appraiser to determine your home's current market value.
As the date approaches to list the home, it is time to clean, declutter and depersonalize. We'd be more than happy to share our list of preferred vendors to help you make your home shine. Of course it is best to remove personal photos and memorabilia and items taking up space on counters.
Related: 5 Reasons to Make a Move Now
It's also a good idea to remove large or extra pieces of furniture to add to the feeling of spaciousness of rooms. And don't forget to clean out your garage.
To add to the pleasant ambiance for those touring your home, install higher incandescent lighting and open blinds and windows to let in fresh air and showcase views.
As a final touch, put potted plants near your entry door and bake some cookies that will waft a pleasant aroma when those attending your open house come inside. Build on these suggestions to help assure your home is sold as soon as possible after that "for sale" sign is posted.
If you're looking for expertise when listing and selling your home in Essex, Union or Morris County, it would be our pleasure to help you. Contact us via the form below at any time.